fa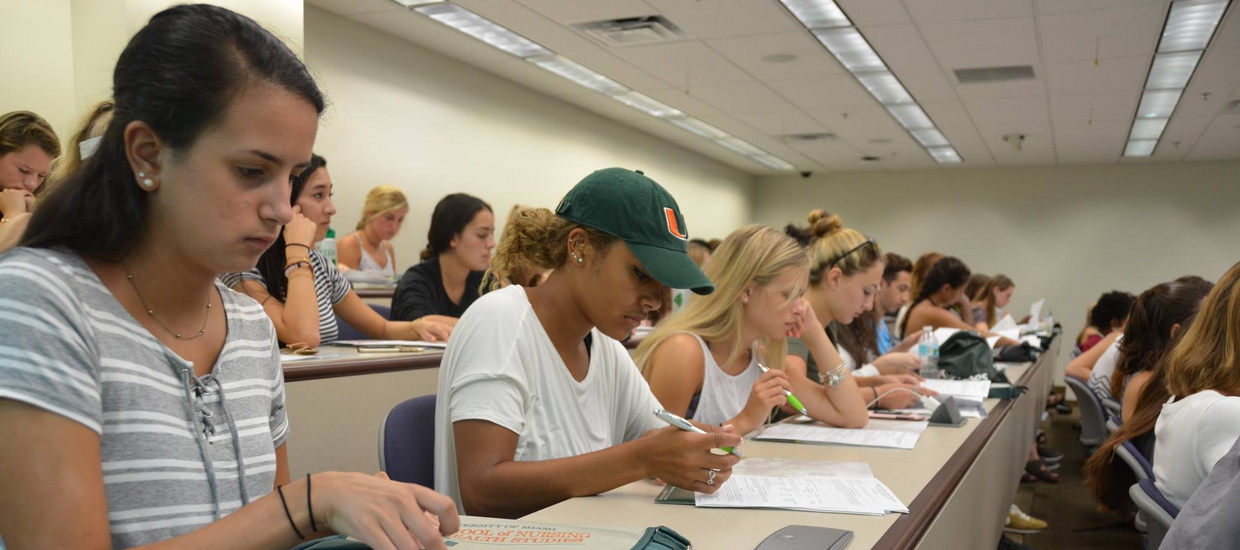 Do I apply as a transfer student, freshman or graduate student?
BSN applicants who have taken classes at another college level institution apply as TRANSFER Students.


Do I need to fill out a specific application for the School of Nursing and Health Studies (SONHS)?
No, you only need to complete one application. Make sure you specify SONHS, the semester you wish to begin and the degree you wish to pursue.


What is the deadline to apply for the BSN traditional program?
Please refer to the Office of Admission's website.


I'm interested in the traditional BSN program and I have all of my general education and pre-requisite courses completed. Can I start in the spring or summer?
No, the clinical portion (upper division) of the nursing program begins each Fall (August).


What are the GPA requirements for the traditional BSN program?



A minimum 3.5 cumulative GPA (All undergraduate course work included)
A minimum 3.3 prerequisite GP
A grade of C or better is required in all prerequisite courses
A grade of C- or below is considered a failed prerequisite
A student may only fail (1) prerequisite course which must be retake



What are the prerequisites for the traditional BSN Program?



General Biology w/ Lab (Biology for premed or biology majors)
College Algebra (or higher level math such as Calculus)
Chemistry for Life Science w/ Lab (Chemistry for premed or chemistry majors will also comply)
Human Anatomy w/ Lab
Human Physiology (Human Anatomy and Physiology I

and

II meet this requirement)
Microbiology
Introduction to Psychology
Statistics (must require that students have taken at least a college algebra course as a prerequisite)
Human Nutrition
Human Growth and Development (must cover the lifespan from birth to death)



How do I know if the prerequisite courses I have taken will transfer in as equivalent to the SONHS?
Check the list of prerequisites and comments listed in question #6 and review the prerequisite course descriptions. The final determination will be made by the SONHS


Can I take the prerequisites at UM?
You may be able to do so. Please contact the office of continuing studies at umnondegree@miami.edu and apply to take courses as a non-degree seeking student. Once you have completed the prerequisites you may apply online as a transfer student


Can someone evaluate my transcripts before I apply?
Transcript evaluations are processed through the UM's admission's office only after students apply.


Is there a timeframe when the prerequisites should have been taken?
We will accept courses from an accredited institution with a grade of C or better that were taken within the last 5-10 years.


I took a few writing courses at another Institution which had the GORDON RULE. Would that complete my writing requirement for the BASIC BSN?
It would not complete the writing requirement because five writing courses are required. You may transfer up to 2 writing courses and you may be asked to submit a syllabus or course description for evaluation. You only need to have completed 1 writing course before beginning the clinical nursing courses.


Suggestion:

English Literature courses above the English composition level meet this requirement.


Would my English Composition I and II courses count as writing intensive?
No, writing intensive courses must be above the English composition level.


How many clinical hours does each

BSN

Basic student get per semester?
For your first semester, you will have several hours of instruction in the simulation lab. You will be at a clinical site one day per week (8-9 hours) your first semester. As you progress through to your second, third and last semester you will be at a clinical site up to three days a week for up to 8-9 hours a day.


What is the pass rate for the NCLEX?
Our passing rate for 2010-2011 was above a 94%. Rates are reported on a quarterly basis. Please visit the NCLEX website for the most recent passing rates.


How many new BSN Students does the School of Nursing & Heath Studies accept every year?
Approximately 20 new transfer students are admitted each fall.


Is there housing for transfer students?
Please contact Residence Halls at 305-284-4505 for more information regarding on-campus housing.


Are any of the nursing courses taught online?
BSN classes in the traditional program are taught on-site.


Does the program offer study abroad options?
The SONHS offers international nursing electives in Chile, Spain and Haiti. Check out International Programs on our website for more information.


Are scholarships available?
Students should check the SONHS website for updated scholarship information . Make sure to visit http://www.fafsa.ed.gov/ to complete and update your online FAFSA.